Home ~ Bouncers and More! ~ Pricing ~ FAQs ~ Contact us ~ Specials
The Double Bowl Frozen Drink Machine can be used to make
Refreshing Margaritas, Daquaris, Pina Coladas and Slushys in a large variety of flavors!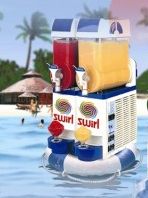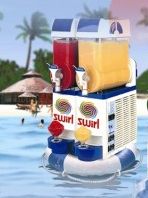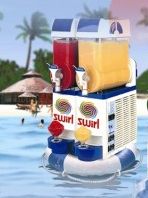 Choose from flavors such as:
Margarita, Pina Colada, Strawberry Daquari, Strawberry, Strawberry Margarita, Blue Raspberry,
and more!
Want something in particular? Just ask!
We include 100 8oz. servings which can be 2 separate flavors or one!
Alcohol is not provided. Additional 50 8oz. servings are $25. We will bring
plenty of extra to make planning easier for you and what you don't open,
you do not purchase.
Rent the Frozen drink machine for a Luau, Tropical themed event, Adult party,
Childrens party, fundraiser, block party or fun event for any age!

Pair this up with a Palm Tree bouncer, limbo game and decorative inflatable parrot
for the complete Luau or Tropical experience!
See Party Packages on our pricing page for special package pricing

Double Bowl - Frozen Drink Machine Rates:
$200 for 24 hours (overnight)
Don't Forget About our Specials!!